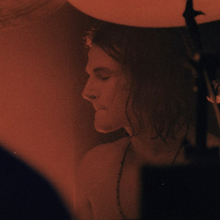 Wayne Everett is the drummer for alternative band The Prayer Chain.
Before The Prayer Chain, Everett drummed for Surfin KGB. He started playing guitar when he was 15, but switched to ukelele because it was easier. When ukelele became limiting, he switched to drums.
Everett was the last member of The Prayer Chain to join. The band had started playing live shows but were looking for a permanent drummer. Wayne auditioned after meeting them at a show.
Everett never saw himself as a very technically skilled drummer, so made up for his perceived shortcomings by intentionally being innovative with his drumming.
After the Prayer Chain, Everett has tended to focus on his singing more then his drumming. He sang & was the primary lyricist for The Lassie Foundation, a band that Eric Campuzano also changed roles for, though he did play drums on a couple of their releases. He released a solo album on Northern Records titled KingsQueens. He sang lead on the song The Kool Kids and the Rock & Roll on Charity Empressa's eponymous release. He played drums for Cush's early stuff, and provided additional percussion on The Choir's Free Flying Soul tour.
In 2016, he released the song Hey Skinny as a tribute to The Prayer Chain producer & longtime friend Steve Hindalong. Hindalong was promoting a kickstarter campaign at the time.
Hindalong says of Everett "I'm not certain when I first realized my infactuation with Wayne Everett. Ultimately we would make the "rhythm connection", but not for a while. He couldn't play to the click track early on. Certainly his violin solo in Grylliade warranted respect. (A monkey might have played more adeptly, but what of the human angst so brilliantly conveyed?)" Hindalong wrote & recorded a song in tribute to Everett, Diggin Your Style.  It appeared on his solo album Skinny.
In 2020, Everett's released his second solo album Two Ghosts and recorded a video clip for the first single "Prisoners".
Updates about Wayne can be found at his website, where there is also a link to join his mailing list. Click here.
Everett enjoys Fleetwood Mac and getting naked.
Community content is available under
CC-BY-SA
unless otherwise noted.