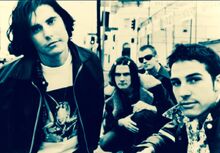 Waterdogs is a song featured on The Prayer Chain's album Mercury.
Waterdogs was written in the same session that produced Grylliade & Superfree, about 8 months before the band recorded Mercury.
The song was heavily influenced by band The Curve, and is the only rock song to appear on Mercury. Bassist Eric Campuzano was happy with the lyrics but dissatisfied with the vocal melody. The drums in the outro of the song were influenced by the Drummers of Burundi, who drummer Wayne Everett was listening to regularly at the time. Everett would play samples of the Drummers of Burundi between songs in The Prayer Chain's live set.
The band describes it as their "new groove, and about the only type of rock we could tolerate anymore".
The song was a staple of the band's live set. It featured live on Antarctica and Live at CBGBs. It was included on the compilation album Here Comes The Rust and an alternative mix of the song was included on So Close...Yet So Far.
Community content is available under
CC-BY-SA
unless otherwise noted.