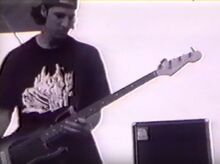 The Hollow is a track on The Prayer Chain's album Shawl. A live version of the song appears on Antarctica, and a demo of the song appears on the bootleg recording The Basement Tapes.
Though written & played live on guitar, the album version is unusual for a Prayer Chain track in that it prominently features keyboards.
On the lyrics, bassist Eric Campuzano says it's about "the burden of carrying around sin and the inability to move forward, coming to terms with the sinful nature of being a human being. And more directly struggling with demons of pornography."
In a seperate interview, Campuzano says "It's a song about fear. You're alone, you're at the point of despair, or darkness - you're at your lowest point. And the only one who's going to help you up is you. God's not gonna pray for you. Your friends around you, they're going to pray for you, but the only person that's going to change anything is you. I feel that God's will isn't decided until you decide to act upon it. The only person that's gonna change is you. It's up to you to decide to make that choice or not." Guitarist Andy Prickett adds "Because the hollow is that place where you are lost. You know that you're doing wrong, yet you're doing it. And you're there, alone - you've made the choice, you're the one in the darkness."
Community content is available under
CC-BY-SA
unless otherwise noted.