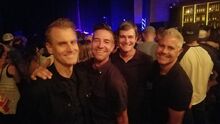 Superfree is a song by The Prayer Chain. It was written during the sessions for the album for Mercury, though did not appear on the final release. It was included on their compilation of outtakes called Mercurios as well as the rarities/live album Antarctica.
Superfree was written in the same session that produced Waterdogs & Grylliade, about 8 months before the band recorded Mercury. It was the band's first attempt at a new sound & direction.
When the band first started writing for their follow-up to Shawl, the band wanted to do a worship-based album.  Bassist Eric Campuzano says "When we were were discussing this record, a lot of people said Shawl was a negative album, so we all kinda wanted to do this real drony 'get lost in the music' type record -- only with praise songs. But we really started just disliking each other, so that didn't allow us to fully praise God, because there's just too much disconnection in the band."  Singer Tim Taber says "before Mercury, I wanted to record a more worshipful album. Eric Campuzano did too, but when we came together, the dynamic in the band produced something different." While Superfree was never in contention for Mercury, it seems likely this was their only lasting attempt from that initial intention.