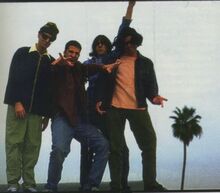 Sun Stoned is a song featured on The Prayer Chain's album Mercury.
The idea for Sun Stoned originated prior to Shawl with a rough recording of it appearing on So Close... Yet So Far.
Sun Stoned is the only track by The Prayer Chain or anyone that guitarist Andy Prickett sings lead on. He was uncomfortable with his vocals, insisting he was out of tune. Bassist Eric Campuzano suggests he was "singing like the angel he is". Producer Steve Hindalong & drummer Wayne Everett both play drums simultaneously on the recording. Early in the song, you can hear Everett pop a bottle cap and it hits the floor. He didn't realise they were recording at the time, but Hindalong loved the effect so much that he insisted it stay in.
Prickett says "the whole idea of this song was start with 10 minutes of drone, one bass riff, and one guitar riff, and build it with something new at each part of the song. We didn't know what it was going to come out like, but were pleasantly surprised by it. We considered it our only true worship song, although I can't imagine any church attempting to jam it during a service. Fun stuff, one of my favorites of all recordings I have participated in".
A video clip was made for the song which the band would sometimes play at shows.
Live recordings of it appears on the Live Tribute to Gene Eugene as well as the Live album celebrating Shawl's 25th anniverary where it opened the show. Both versions are notably different with Tim Taber handling the lead vocals.
Luxury covered Sun Stoned on the album Salutations: A tribute to The Prayer Chain in a style reminiscent of Radiohead's The National Anthem.
Community content is available under
CC-BY-SA
unless otherwise noted.