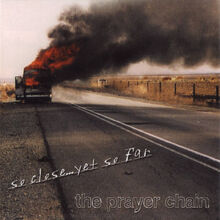 So Close...Yet So Far is a 2-disc compilation album by alternative band The Prayer Chain released in 1998. It featured previously released favorites as well rare & unreleased material.
The first half of Disc 1 is something of a best-of of their material up to the Live EP. The second half features alternative mixes of tracks from the Mercury sessions. These mixes at the time had been unreleased.
Disc 2 features rareties & unreleased recordings, including a few rehearsal sessions. The Neverland Sessions tracks that hadn't appeared on Whirlpool EP were reproduced here as they were largely unavailable at the time, though the version of Whirlwind was the 4-Song Demo version.
The physical copy of the album was a limited release, so has become a rarity in itself. However, it is available digitally on Bandcamp.
The artwork of the album features a collage of photos of the band on the road and performing. The cover is of a tour bus that caught on fire while the band were travelling in it.
The disc features liner notes for all the songs. However, the section "Too Much Information" contains numerous errors.
Tracklisting
Disc 1
Shine
I Believe
Mercy
Some Love
Crawl
58
Never Enough
Grin (live)
Grylliade (Chris mix 1)
Waterdogs (Gene mix)
Creole (Gene mix 2)
Chalk (Chris mix 1)
Mercury (Gene mix 2)
Sky High (Mark mix 1 of 5)
Disc 2
Whirlwind
Follow This
Take It Away
Kill Me
California Rain
Chatterbox
The Innocence
Punk Song
Precious Man
Turtle Doves
Sun Stoned concept
JP Intro
Surrender
Never Enough (live)
Radio-Friendly Stone
Lose Yourself
The Otherside of Heaven
Community content is available under
CC-BY-SA
unless otherwise noted.