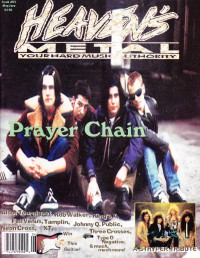 Sky High is a song featured on The Prayer Chain's album Mercury. It had the working title Super The Verve due to being heavily influenced by UK band The Verve.
Sky High did not appear on the first draft of Mercury, but was written alongside Friend or Foe, Lose Yourself & The Other Side of Heaven when the band were instructed to go write a few more Christian songs by the record company. While the band was angered by the label's request, they conceded at the 20th anniversary of Mercury that Reunion's request was in hindsight a happy accident as it produced Sky High.
Original jams for the song lasted over 20 minutes, and the verse was a whole different song idea in itself. 
The lyrics were based on an idea of drummer Wayne Everett's. Bassist Eric Campuzano says "For Wayne, he felt in touch with the infinite and his innocence at a place called the Salton Sea in California. He used this place as a metaphor to finding peace with God and a sanctuary from the rest of the world. The song is about finding peace and innocence."
The band self-produced it. Steve Hindalong, who had produced the rest of Mercury, was sent the demo and replied "I don't get it". The demo can be heard on the bootleg recording The Basement Tapes.
The song was a staple of the band's live set. It featured live on Antarctica and Live at CBGBs. It was included on the compilation album Here Comes The Rust and an alternative mix of the song was included on So Close... Yet So Far.
Michael Pritzl of The Violet Burning covered Sky High on the album Salutations: A tribute to The Prayer Chain. In the liner notes, he says "I have always enjoyed the gifts of The Prayer Chain... Eric is such a great lyricist, Wayne has such keen melodies, Andy knows how to play just the right amount of guitar, and Tim is a great front man. Together and separately they have made some great music. Mostly, they are great people who I have had the privilege of knowing on this earth. I love them all."
Community content is available under
CC-BY-SA
unless otherwise noted.