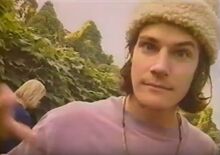 Shine is a song featured on The Prayer Chain's releases Whirlpool EP, The Neverland Sessions, and 4-Song Demo. It was included in the compilations So Close... Yet So Far and Here Comes The Rust. The song was originally titled Shine On.
Shine was released as a 7-inch vinyl single. The b-side contains banter from the band poking fun at the song.
Shine was a popular song early for the band, and was requested relentlessly by audiences which grated on the band. The Prayer Chain responded by burying the song, and opened Shawl by declaring "Shine is dead" in the song Crawl.
Despite being re-recorded for The Neverland Sessions and Whirlpool EP, the band have acknowledged that they never got it sounding better than the original demo.
Community content is available under
CC-BY-SA
unless otherwise noted.