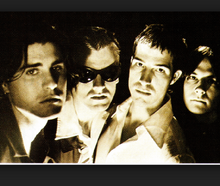 Mercury is a song featured on The Prayer Chain's album Mercury. It's working title was Tasty Treat.
Producer Steve Hindalong met up with the band in the lead-up to the recording sessions for the album Mercury to hear their material & develop it. Mercury was a new song that popped up in these sessions. The prominent bassline came about when Hindalong assertively told bassist Eric Campuzano to "play a f*cking melody".
The haunting vocal effect was achieved using an old microphone engineer Chris Colbert had bought at a yard sale.
The reference to 56 million miles in the lyric refers to the distance between the planet Mercury and the Bering Sea. The band called the following tour the 56 Million Miles To Go Tour.
Campuzano says he "knew this song was fresh pretty much the moment we wrote it. One of the best ones we wrote at Tim's parents' house. Although Grylliade is my favorite, this is really the best song we wrote, probably ever will. Apathy."
Guitarist Andy Prickett says "I've always been torn & convicted by God's spirit. And when that left me for a while, I had no idea how it happened. All I knew is that it was really true. And I had to explain it somehow so (Eric) wrote a song about it."
It was included on the compilation album Here Comes The Rust and an alternative mix of the song was included on So Close...Yet So Far.
Community content is available under
CC-BY-SA
unless otherwise noted.