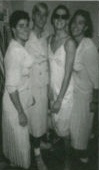 Manta Rae is a song featured on The Prayer Chain's album Mercury.
The song is unique in The Prayer Chain's catalogue in that it is the only song to be sung entirely by a guest vocalist, namely Caryn Colbert. Caryn was from the band Breakfast With Amy. It is also the only song on Mercury that guitarist Andy Prickett has a lyric writing credit on, though Eric Campuzano was the main lyricist for the track.
The drums, bass & guitar were recorded simultaneously with drummer Wayne Everett, Campuzano & Prickett situated in different rooms, in one take. Through a recording accident, the song bleeds into the introduction of Bendy Line. The band left the accident on the album.
Viva Voce covered Manta Rae on the album Salutations: A tribute to The Prayer Chain. In the liner notes, they said "Thanks to The Prayer Chain for making great art. We met each other for the first time at one of your shows, and will always have a special place for you and your music."
Community content is available under
CC-BY-SA
unless otherwise noted.