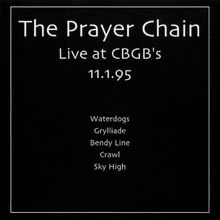 Live at CBGBs is a live release by alternative band The Prayer Chain. It was recorded on 1 November 1995 on the Mercury tour and released in 2005.
The band says "While doing our final tour, we stopped in New York City to play at the world famous CBGB's. It was a weeknight, the crowd was sparse, and it was raining outside. We got off to a rough start, but in the end came away feeling fairly good about the show. Luckily, the sound man made a cassette tape of his board mix, and handed it to us on the way out. What a stud. This is a good insight into how the songs from Mercury had developed live over the course of the year. Having Jeremy on percussion made all the difference. Our background vocals were never outstanding live, and here is no exception. But the raw power of a band trying to prove its worth in a setting that was (sadly) a bit unfamiliar shows up pretty well."
On the liner notes "Nacho" is credited as being part of the band. Nacho was the band's driver, who often got the band lost.
Tracklisting