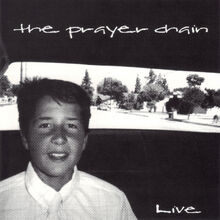 Live EP is the first live release by alternative band The Prayer Chain. It was released in 1994 and recorded live at The Screem, Concord California on December 18, 1993 on the Shawl tour.
Two versions were released, the first containing only four songs and another extended version containing extra live cuts and b-sides from the era.
In the liner notes, the band says "This "record" was made for our fans, friends, and family. We hope you enjoy it, and many thanks yous for all your support and prayers...may the force be with you. Our hope, our faith, our love is...above and beyond".
The Cutter is a cover of Echo & The Bunnymen. The band says "one of our favorite songs by one of our favorite bands, seems to be more for our pleasure than the crowd's".
Chatterbox is a leftover track from the Shawl recording sessions. This version had the whole mix run through two fuzz pedals. A slightly different version appears on So Close... Yet So Far. The original mix has never been released.
Radio Friendly Stone was recording for an acoustic compilation but didn't make it due to some "business fussiness". The band believes it foreshadows the Mercury sound & feel.
Tracklisting
Dig Dug (live)
Psychoflange (live)
The Cutter (live)
Grin (live)
Extended version
Crawl (live)
Dig Dug (live)
Psychoflange (live)
The Cutter (live)
Some Love (live)
Grin (live)
Chatterbox
Radio Friendly Stone
Community content is available under
CC-BY-SA
unless otherwise noted.