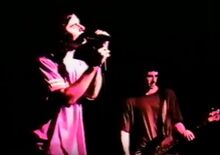 I Believe is a song featured on The Prayer Chain's releases Whirlpool EP, The Neverland Sessions, and 4 song Demo. It was included in the compilations So Close... Yet So Far and Here Comes The Rust.
The band says of the track "if The Prayer Chain ever had a hit, this was probably it. It was also our most misunderstood song which, much to our horror, took on a life of its own. But, we can't complain, it got us signed."
I Believe is singer Tim Taber's favorite song by The Prayer Chain. Michael Pritzl of The Violet Burning sang BGVs on the track.
A reprise of the song occurs at the end of The Neverland Sessions.
Ed Lamosa of Dear Ephesus covered I Believe on the album Salutations: A tribute to The Prayer Chain. In the liner notes, he says "What made The Prayer Chain such an exceptional band to me was their ability to blend skilled musicianship and emotion - usually you get one or the other - and that their sound progressed through the years and in the end they were a better band as a result. Their last albums are definitely their best." Of the tracks recorded for Salutations, Andy Prickett says it's his "favorite" and "the way the song should have always been". Taber says about Salutations "I like that a lot of bands reinvented the songs. It didn't work so much on I Believe."
Community content is available under
CC-BY-SA
unless otherwise noted.