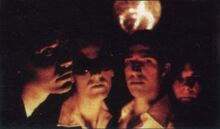 Humb is a song featured on The Prayer Chain's album Mercury.
The song is based on a drone taught to the band by engineer Chris Colbert.
The lyrics of the song are taken from Psalm 136. Despite the bitter themes on the Mercury album, Humb & Sun Stoned bookend the album in praise for God.
On Humb, bassist Eric Campuzano says "We wanted a song, a heartbeat, a truth of what Mercury was about, and it was Humb." Campuzano also plays recorder on the track.
In another interview, Campuzano says "I think a song like Humb really captures the band, cause we are Christians and God is gonna deliver us from whatever. But Andy had this nice drone that you can totally get lost in, and totally just meditate to, and here comes this loud bass and drums to destroy any semblance of relaxation or peace. That's essentially what our walk is with God and our lives are with each other in this band. To me, Humb is a very crucial part of this record."
During the Mercury recording sessions, the band drove to Cornerstone festival to do a live set. Colbert created a rough mix of the song as an introduction for their set. This mix appears on the outtakes albums Antarctica & Mercurios. This version sticks with the drone without adding the heavy drums & bass that appear on the final version, and the vocals are even more buried in the mix.