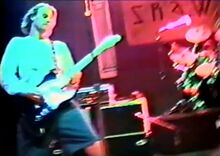 Grin is a song featured on The Prayer Chain's album Shawl. 
Originally titled Love, the song was a band favorite that was never played the same way twice, often featuring snippets of other songs. The song was originally written out of a jam session.
Live versions of the song appear on the Live EP and the bootleg release The Basement Tapes.
Drummer Wayne Everett said Grin was an attempt to a Jane's Addiction styled psychedelic number. In the quiet middle section, he intentionally mimicked the drumbeat from U2's Walk To The Water.
The abstract vocal during the instrumental section was done by Everett.
Bassist Eric Campuzano said the time changes were done at the suggestion of producer Steve Hindalong. Hindalong said he threw the band challenges because he was so excited by the band.
Community content is available under
CC-BY-SA
unless otherwise noted.