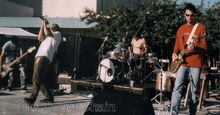 Fifty-Eight is a song featured on The Prayer Chain's album Shawl. It also appeared on compilations Here Comes The Rust and So Close... Yet So Far.
The song was originally titled Precious Man. An early rehearsal of it can be found on So Close...Yet So Far.
Fifty-Eight is notable for being in 5/8 time, hence the title. Writing in 5/8 time was difficult, so drummer Wayne Everett requested a bar of 4/4 be inserted into the middle of the song as a moment of relief. At one point the song was called "Fifty-Four" but producer Steve Hindalong explained to the band that the song was actually in 5/8 time not 5/4 time.
On the lyric, guitarist Andy Prickett says "It was a father-daughter song. That song was about a friend of ours, a girl that we knew who sang BGVs with us sometimes. It was her & her father, a representation of that time."
In 2018, bassist Eric Campuzano says "thinking back, I was really embarrassed about this lyric on this song. But I look back on it now, I was trying to tell this story but I was doing it for my own incense. That's alright but sometimes it sounds awkward. The idea of God taking your fist and holding it in his hand. Just begging him for anything to just let it go."
Singer Leslie Dupre-Grimaud performed additional vocals on the track.
The band worked on the song for over a year.
Community content is available under
CC-BY-SA
unless otherwise noted.