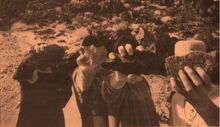 Dig Dug is a song featured on The Prayer Chain's album Shawl. It also appeared on Live EP.
The song is named after a video game. Singer Tim Taber describes the title as his sole contribution to the song, as he was a fan of the game.
The lyrics for Dig Dug were written before the music. It references the account of Thomas the apostle hearing about the risen Jesus in the Gospel of John.
Guitarist Andy Prickett says there was some hesitancy about sequencing the song after Crawl, feeling the songs were too similar so people might assume the band was a one trick pony.
Community content is available under
CC-BY-SA
unless otherwise noted.