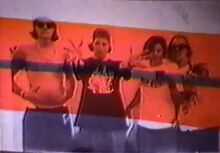 Crawl is a song featured on The Prayer Chain's album Shawl. It was the only song to appear on all their live releases. It also appeared on the compilations Here Comes The Rust and So Close... Yet So Far.
It was originally titled "Shine is Dead or "S.I.D". The lyric was a reactionary song against being asked to play Shine at every show.
At the time of it's release, the band described it as "about the death of something spiritual and innocent, in its attempt to grow-up".
The band's original intention with the song was that it should be electronically driven not riff-driven ala Curve, but the band was limited by its lack of technology. As a result, the song went through a number of different versions of the song. The band say "Crawl took six months of yelling and fighting over its direction before we had completed the song; and even after all that, some thought it still wasn't finished." Guitarist Andy Prickett even suggested that through much of the recording process, the band considered the song "a stinker" and only came together very late in the process.
Drummer Wayne Everett credits the tribal nature of the song to the influences of the Drummers of Burrundi & producer Steve Hindalong.  
A video clip was filmed for the track by Peter King of the band Dakota Motor Co. It comprises mostly of bootleg footage from the tour.
The song was released on vinyl as a 7-inch single, backed with Like I Was.
Community content is available under
CC-BY-SA
unless otherwise noted.