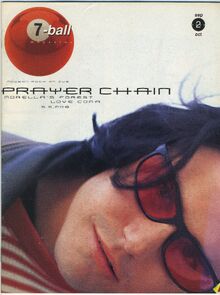 Bendy Line is a song featured on The Prayer Chain's album Mercury.
The song's lyric & melody was written by their producer Steve Hindalong. The band had the working title Bendy Line referencing guitarist Andy Prickett's main riff in the song, and it inspired Hindalong to write a song about sex.
Bassist Eric Campuzano says "Steve Hindalong wrote the lyrics & melody on this one because Tim at the time had difficulty following the time signatures. The melody is a great melody for Tim to sing. He goes from his voice to the falsetto. A very good moment for him. The song itself is disturbing and beautiful."
The song featured live on Antarctica and Live at CBGBs.
Community content is available under
CC-BY-SA
unless otherwise noted.