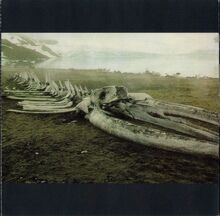 Antarctica is a song by The Prayer Chain. It was written during the sessions for the album Mercury, though did not appear on the final release. It was included on their compilation of outtakes called Mercurios as well as being the title track on the rarities/live album Antarctica.
The song also appeared on the original draft of Mercury, later released as Humb.
Campuzano wrote the lyrics using lines from the Chris Marlowe poem The Passionate Shepherd To His Love. The Real Tuesday Weld later used the same poem on their song Let It Come Down.
Singer Tim Taber says "Antarctica was pretty much a studio song. We hadn't rehearsed it very much. Vocally & lyrically it was just winged."
Bassist Eric Campuzano says "I wrote what I think is my best love song that I've ever written. And it's a real crying shame that this song didn't end up on the record. I think it's a song people will not really expect from us. I think the coolest moment of that song is the flute solo."
Producer Steve Hindalong & drummer Wayne Everett play recorders on the track, which is what Campuzano refers to as "the flute solo".
Canary covered the song on the tribute album Salutations. Guitarist Andy Prickett praised their efforts. "Canary made Antarctica actually sound like a song -- that's a feat in and of itself."
Community content is available under
CC-BY-SA
unless otherwise noted.