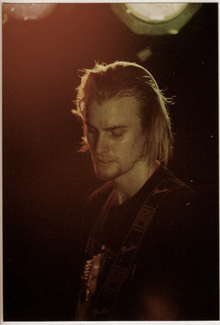 Andrew "Andy" Prickett is the guitarist for alternative band The Prayer Chain.
Prickett was often the engine room of the band, being the catalyst in starting songs or forging a direction. He also handles a lot of the band's current online presence.
Before The Prayer Chain, Prickett played in the bands The Club and Laughing Boy.
After The Prayer Chain ended, Prickett started Northern Records and has done a lot of production work, most notably with One Republic. He also played in a number of bands including The Violet Burning, Cush, My Brother's Mother, Black Lantern & White Lighter. He played bass for The Lassie Foundation in their early efforts, and often plays guitar for Stranger Kings in their live shows. He also has the drone projects Camera Phone and Zugzwang.
He's often referred to as "The Doc", a nickname he got from Jason Martin of Starflyer 59 after Andy fixed his guitar.
Producer Steve Hindalong says of Prickett "...an astounding musician, and one like no other. He really knew his fret board...could've dazzled with his prowess on the guitar; but he ached instead to paint a more honest picture. It seemed to me that Andy's expression was akin to wringing vinegar from his soul. I was distressed that he seemed miserable throughout much of the creative process. But there were moments of jubilance also."
Prickett says "my friends kinda half mocked me for a long time, because all I did was sit in front of my amps and tweak all of my stuff for hours on end. I lost some hearing because of it for sure. But I was just never satisfied -- I had to get out the sound I was hearing in my head."
Prickett sights his guitar influences as The Edge (U2), Billy Duffy (The Cult) and Dave Navarro (Jane's Addiction). He says the band Boston inspired him to play guitar when he was 7 years old.
Prickett likes Star Wars & knobs.
More information can be read about Andy at his website.
Community content is available under
CC-BY-SA
unless otherwise noted.